Yes, It's December and that means it's basically Christmas but I have some catching up to do!
Let's talk Halloween!
I didn't actually go out for Halloween itself but conveniently Greg's cousin has his birthday on 1st November, and was having a fancy dress party - cue the mad costume making! As is traditional, I didn't actually start the costumes until the day before the party but I had planned the costumes a few weeks in advance and had stocked up on fabric. I even managed to do some stash-busting!
Our costumes? A proper (ie. non-sexy) nun and the Holy Father himself, The Pope!
Greg's family were all brought up Catholic (don't worry, we didn't offend anyone). After my moving and shaking to Walking on Sunshine, I was told by his convent-schooled aunt that she'd "never seen a nun dance like that before!"
Admittedly the costumes took quite a long time. I started off by copying one of Greg's shirts to make a shirt pattern that could be extended to make the base of his cloak - it looked remarkably like a lab coat! It's made out of very thick cotton twill (the kind you'd use to cover function chairs) and has a button down front - buttons which I sewed on in the car en route to the party! I also made a short cape to cover the shoulders and sewed it straight on at the collar, and the cloak is cinched in the middle with a white sash.
Greg made the hat using a cardboard template and glueing fabric and ribbon in place with spray glue. The red scarf (I don't think scarf is the right word but I'm really not up on my Pope terminology) was made out of scrap and has a gold ribbon cross.
All-in-all I think I put in about 6 hours worth of sewing into Greg's costume; mine on the other hand was done in about half an hour!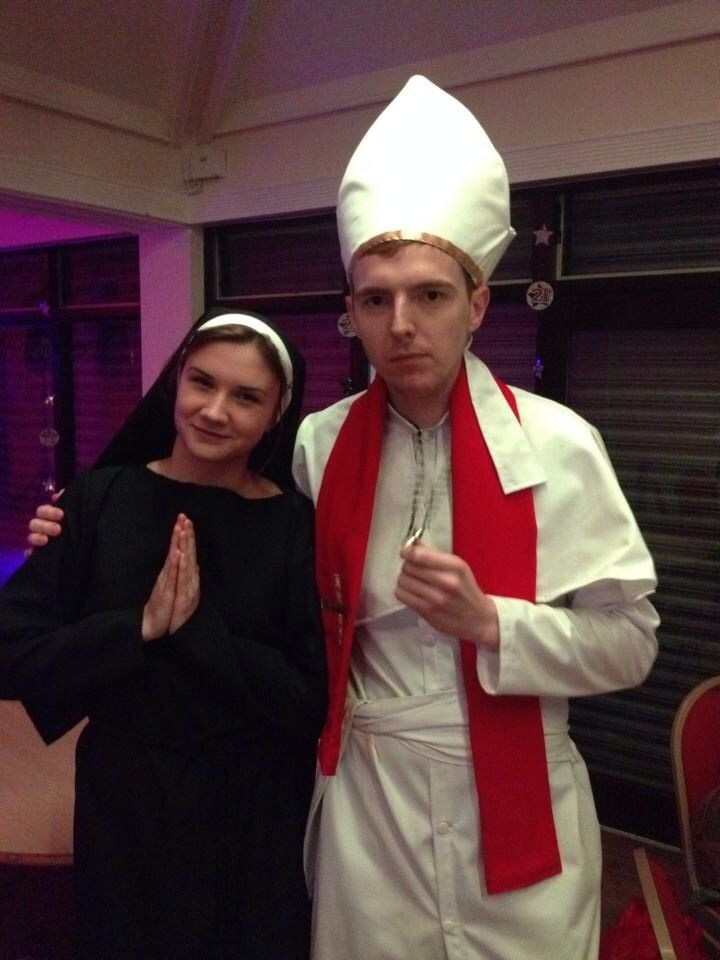 The dress was made from rough cut parts (ie. I totally eyeballed everything!) in a cheap black polyester . A basic tabbard (massive rectangle with a hole for my head) and roughly cut sleeves gave the whole thing a very rustic look - apparently that made it authentic! And it was tied in the middle with a length of thick black rope.
The habit was made from a rectangle of black fabric with a strip of white sewn on the front. I hemmed it round the outside like a giant handkerchief and pinned it on to my head with kirby grips and voila! One nun's habit!
Again, as is traditional, these outfits look much better from afar than they do up close - if you were to look at the seams you would be horiffied! Well, maybe only if you were a seam fanatic, but you get the point.
I did manage to use up a load of fabric from my stash though, which is a bonus, and now we have two more costumes to add to our fancy dress box - not bad for a couple days work!
When one of your cousins goes as a spy, you can't not have a photo as gangster pope!