That month went a bit fast! Sorry about the accidental silence on my part! In my part of town it's birthday season and with that came lots of dress-up opportunities, some of which I was creative with and some, I just didn't have time to sort out so alas, few costumes were made!
My birthday this year was on the theme of a Bin Bag Party. For those of you who haven't been to a bin bag party, essentially you make your outfit out of bin bags, or carrier bags and stick the whole lots together with tape!
Oh and yes, he is dressed as the Doppler Effect
This was my dress for my birthday this year. A fitted scoop necked bodice with a hugely puffy A-line mini skirt with it's own bin bag petticoat, all tied together with a blue sash!
It was cute, all be it very rustley, but then this happened...
My housemate completely stunned me with her wondrous creation of a fluorescent 1920s drop-waisted flapper dress! And that from a girl who says shes not very good at crafty things. I like to think that I inspired her but really I can't take any credit for her gorgeous dress!
So then came Halloween and I didn't even have time to carve a pumpkin let alone make any costumes! I was invited to two Halloween parties though so my lion outfit came out for one and
Spyro
came out for the other.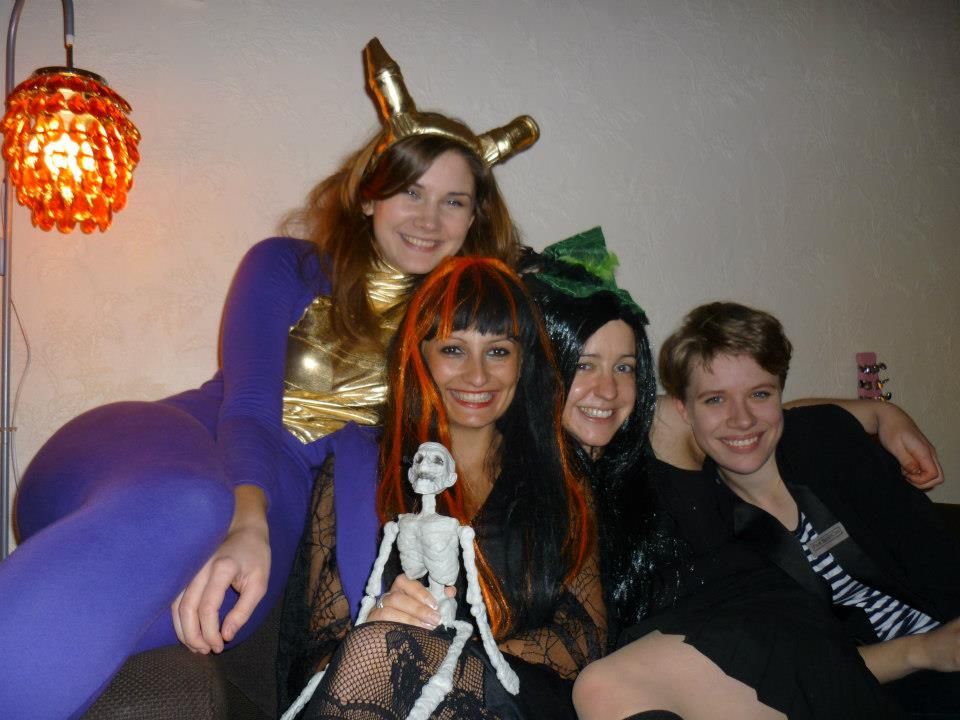 With my Kickboxing lovelies
And somehow, I lost a month of my life! It all flew past so fast! And now it's November, I'm finally starting to buckle down and do some work but alas, my sewing projects are calling to me once again. Maybe I'll pick one up soon. I'm on a mission to organise my life this month as I want to teach a few of my friends how to sew. Once I've managed to work out whether I'm coming or going, I will sit down and sew.
I promise!