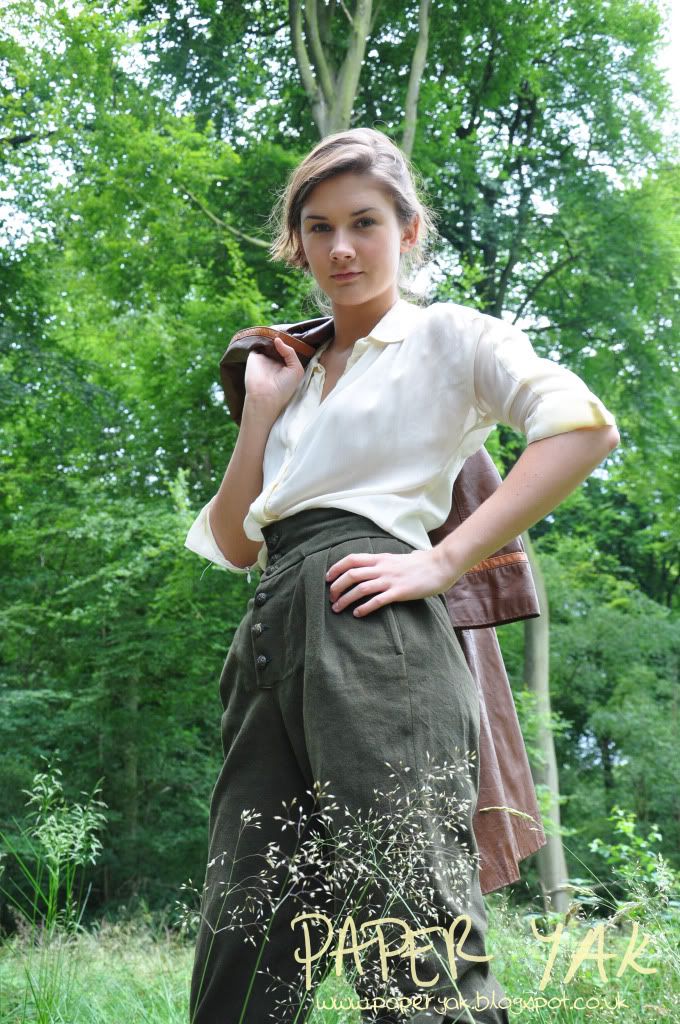 As promised, I have finally started to get round to cataloguing my costumes, and here is my first complete steampunk outfit! I call it, The Airship Captain.
This outfit started it's life in a completely different configuration, with the jacket and boots being used to form a Circus style outfit, complete with red and black striped trousers and a top hat, but I prefer this combination much more.
The shirt is a sheer silk blouse from the sale in Zara (about £15 I think) from about 2 years ago. The boots were from Jones the Bootmaker, also in the sale (about £50) and are the ones that kickstarted my, now flourishing, boot addiction. The coat is a 1970s calf length real leather coat from Oxfam that cost £15. I originally bought it with the intention of cutting it up to cover one of my corsets but fell in love with the shape and the large lapels so had to keep it.
The star of the show is my hand made breeches. I bought these from a costume shop in The Stables Market, Camden with my friend Julia. I think originally they were very good quality mens costume breeches, probably used in the theatre, but they were far too big around the waist. When I got them home, I deconstructed them, picking apart the waistband, adding pleats to the hips and reattaching the waistband after making it smaller. This also let me see that the waistband is stiffened with hessian, which makes me think that they are a very good replica of 16th/17th Century breeches. I also replaced the buttons, and voila! Perfect custom fit breeches, fit for the captain of an airship!
Unfortunately the one thing this outfit is missing is my custom made steampunk badge but alas, that will have to wait for another day! In the mean time I hope this satisfies your steampunk fix and stay tuned for more posts soon.
All photo credit goes to Greg for helping me trapse into the local wood to get these shots. Thank you Greg!
[Incidentally, if anyone has any preferences as to wether I should blog more frequently with smaller posts or continue my more infrequent but larger posts please let me know!]