A few days ago I swapped bedrooms with my housemate Izazi. Our house has two big bedrooms and two small ones so we thought we'd all swap to make it more fair. This means that I have downsized from a big room to a smaller one.
Now, I'll admit, I am a hoarder. It's not all rubbish, I just have a lot of bulky possessions and as such, storage is becoming an issue. There are a few shelves in my room and a good sized wardrobe but there's not much floor space and this is made smaller by the fact that I have a double bed with a divan base with no drawers and no gap underneath.
Who puts a divan base bed with no drawers in it in a small room!!
This is what a basic divan base bed looks like.
Anyway, something had to be done. So I investigated further and my divan is infact just a crate shape with fabric over it. It'll become clear in a minute. So me being my crafty self adapted it, and here's the tutorial.


How to make your totally useless divan based bed an amazing storage place!
You will need:
A staple gun (maybe not a
value
one like mine, it's temperamental)
A knife (best if it's a craft knife/stanley knife style)
Here's how to do it:
First thing you want to do is cop a feel of the frame. Work out where the edge struts are.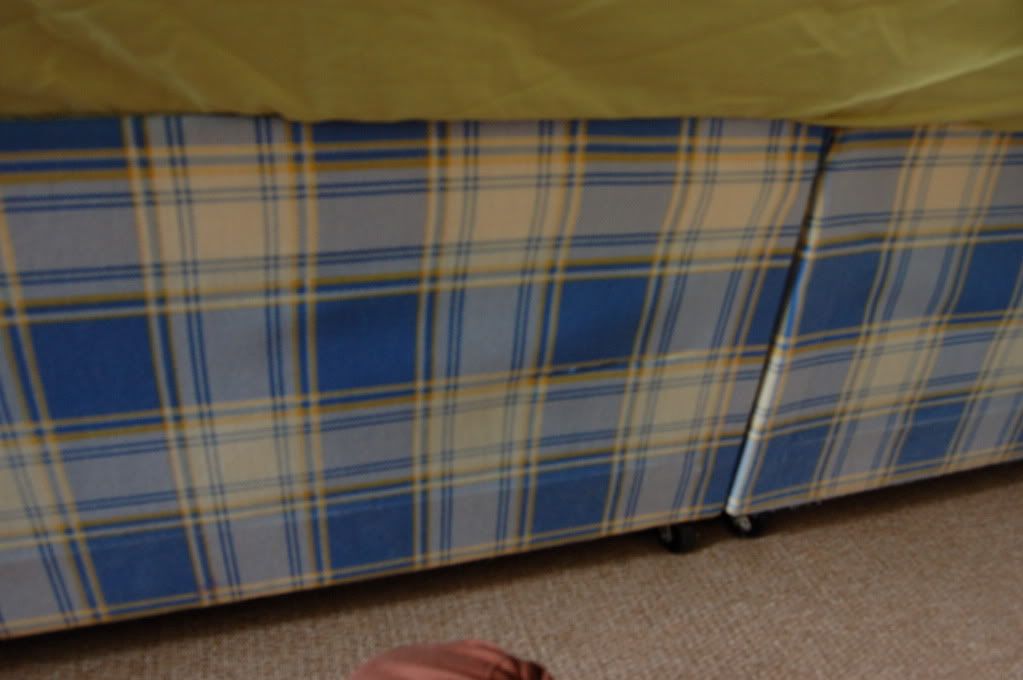 My divan base (sorry it's out of focus)
Cut a slit in the middle of the fabric and about three inches off the edges, slant it out in a triangle shape, like so...
Have a look inside the base. There might be a lot of excess black fabric fixed to the other side.
If there is, fold it up against the inside of the frame, hiding the raw edges and hold it there.
Take the outside fabric and fold the raw edge under, leaving enough excess fabric to pull it over the frame and hold it taught over the top of the folded black fabric. Staple gun it down on the inside so both the outside fabric and the black fabric are all held down together.
For the sides, fold the triangle shapes under and line the folded edges up so they fit neatly against the frame. Staple gun into place, being careful to keep it neat as this bit will be on show.
Repeat on the top and other side and then sit back and admire your handiwork.
A few things to mention...
As these aren't drawers, they have no front so you'll need to cover them up with a valance or divan trim. Incidentally, the difference between a valance and a trim is that a valance goes over the mattress as well so you don't need a fitted sheet, where as a trim goes under the mattress.
Also, because of the black fabric on the base which doesn't quite touch the floor, it's not a good idea to put very heavy things in it. It is perfect for soft cover under bed storage bags though!
So now all my things fit in my bedroom and are hidden away neatly... Hooray!
Oh also, good news! That
engine breakdown poster
I was making with my coursemates? We won! Which means we get to go to the Aston Martin factory in Warwickshire and get to sit in the cars and go round a track! Hooray!
Izazi, Matt, Greg and Pete looking cool and me looking like an utter goon!