I completely forgot to post about this at the time and it's only 2 months late.
For Valentine's Day this year, I treated Greg to a meal. Basically, Greg really likes cooking (and is a very good cook too) but this means that when I cook for him, he normally takes over pretty quickly. Also, he doesn't like some of the food I cook, not that there's anything wrong with my food. I'm a good cook! I blame the North/South divide. Anyway, so we had an agreement that I got to cook for him on Valentine's Day and he wasn't allowed any input. He wasn't even allowed in the kitchen in the end! So he sat and watched TV whilst I cooked up a storm and this is what I made...
Sound's delicious doesn't it?
Starter
Like this but less artistic!
I'd never made a prawn cocktail before so under the instruction of the internet, I put a layer of iceberg lettuce leaves inside a wide wine glass, spooned in a pool of Marie Rose sauce, layer a few prawns on top then balanced the rest round the side of the cup. I didn't take a photo because, well to be honest, it looked a bit messy and my wine cups are actually big green plastic wine cups. But it tasted great!
Main
I'd spent the day before cooking steaks with my housemate Izazi to make sure I got them perfect on the night and in the process found a really great Jamie Oliver video on how to cook them.
I'm not normally a fan because he tends to cover everything in rosemary and garlic (as you'll see in the video) so I skipped that part and just used salt and pepper and they turned out great! Greg likes his more on the rare side but I like mine a bit more well done so I started mine first and turned it twice before I put his on. The vegetables were very straightforward, they had to be put on a few minutes after the steak, but the wedges needed longer so I had to put them on earlier.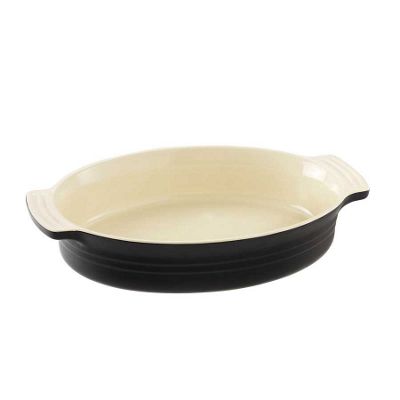 So far, since I've been cooking for myself I haven't bought a single bag of pre-made chips, I always make my own wedges. It really is easy. Cut the potatoe up lengthways in half then slice each half into 6 or 8 wedges. Heat the oven to 180 degrees Centigrade and pour a tablespoon of oil into a big casserole dish, I use an oval one like this -->
Run the wedges through the oil so they are coated on both sides then line them up, skin down point up in the dish. Once they are all standing up and not too close to eachother, sprinkle them with salt and pepper and any other spices or herbs you want on them and stick them in the oven for 30-40 minutes! Perfect wedges every time!
I don't have any photos of the cooking process (it all happened so fast) but I did take a photo of Greg eating it!
A bit blurry but you get the idea
At that point I was told to put the camera down and start eating!
Pudding
For pudding, I made a courting cake, which apparently is a traditional Northern English cake made my young girls to woo their suitors. How very appropriate! This is how it looked.
It is essentially a three-tier Victoria Sponge cake with real strawberries and stiff whipped double cream.
Spread two of the layers with double cream that has been whipped until it's basically solid, then press cut in half strawberries in to the cream. Keep the flattest, most even layer for the top of the cake as domed halves can be trimmed flat and disguised by the thick cream layer.
Stack it up, sprinkle with a little bit of icing sugar and admire your handy work!
Oh a word of advice, you'll need a big knife to cut it! It is a big cake but is really delicious!