You may remember me previously metionning that I am in my exam period now and with two very heafty exams this week (one Monday, one Saturday) I don't really have any time to post or do crafts and I really ought not to be distracting myself by looking at all the lovely craft blogs on the internet...
BUT that doesn't mean that you can't! So have a gander at the links down the right-hand side of my page and check out a few of my favourite blogs!
On a crafting note, I splashed out on myself the other day and bought two really cool machines that will help with my future projects; I bought a Simplicity Rotary Cutting Machine and a Simplicity Bias Tape Maker!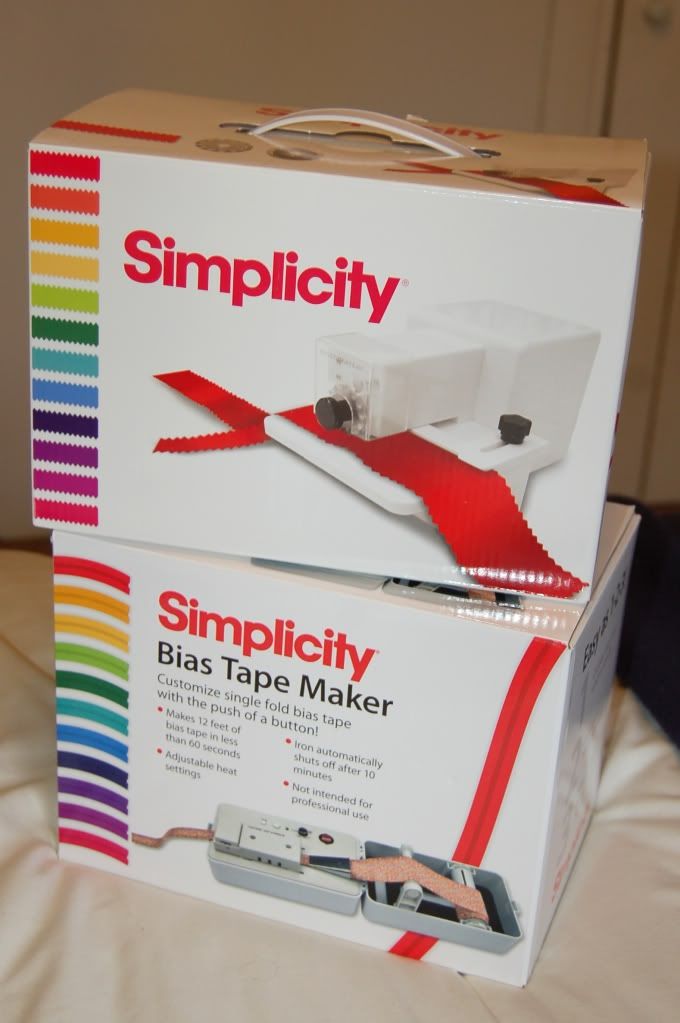 They are normally very expensive each but they were 2-4-1 on a shopping channel (a weakness of mine and my housemates!) and since I shall soon have to be making 56 feet of bias binding ribbon for my petticoat (and Jenny will be doing for hers too!) I decided that it would be best to spare myself the trouble and get a clever little machine to do it for me! Actually, I didn't know these things existed and was dreading the prospect of all that cutting, folding and ironing until I happened upon that shopping channel one lunch time.
Also, I can justify buying them completely now because my Mum came to visit me the other day and asked her if I can make her a fitted cover for her 3-seater sofa, so now I can make piping with them too! Hooray! I just have to resist the temptation to play with them before my exams are over. My plan is to not buy my petticoat fabric until halfway through so I can have it delivered when they finish.
Anyway, wish me luck for my impending exams and expect some sporadic posts soon!