For a while now, I've been reading a fantastic sewing blog called
Sewaholic
, and I have had the biggest craft crush on a pattern drafted by the blog's creator, Tasia.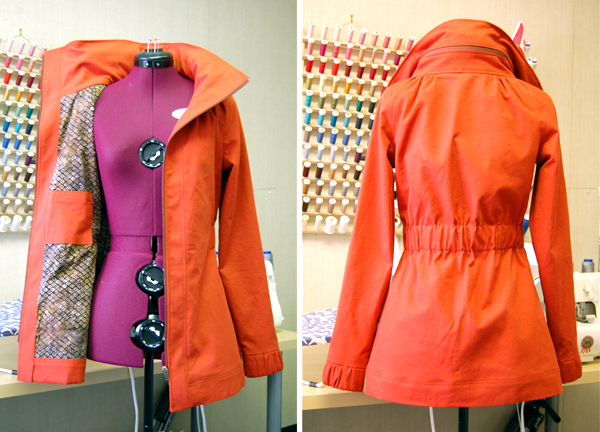 Sewaholic's Minoru Jacket
It's called the Minoru jacket and it was part of a sew-along session that she held.
Now a sew-along is pretty much what it sounds like. You buy the pattern from the blog and the fabric you want with all the trimmings etc from your most loved fabric shop and everyone from all over the world makes the item step-by-step at the same time as the blogger. This means that you can all share your adaptations and ideas and help solve each others problems! I've never done one of these but it looks like great fun.
But mainly, what I want to do is make the Minoru! It's so lovely and I've only made a complicated jacket once before and it was nothing like this! This is so much more stylish!
The last jacket I made... My GCSE textiles coat! Please excuse the gawdy-ness, it was 2005 and I thought I was high fashion posing infront of my curtains with an eery trouser glow.
Also, it would make a change to make something from a pattern - I hardly ever make things from patterns anymore as I've found that they just don't fit me in any way normally - and it would improve my skills to be able to buy a pattern and alter it to fit me properly.
The only problem I could see with it would be the cost. Once you've bought a pattern (OK they aren't expensive but lets say £10) and the probably 2m of fabric that goes with it and all the trimmings, its going to cost at least £30. That's borderline shop price really and in my eyes the benefit of making things yourself is that it's cheaper than buying the equivalent. Also, I'd probably want really nice thick green wool suitings fabric for it so that would cost me quite a bit more for the fabric alone.
Still, imagine...
I'd take my inspiration from Joules S/S '12 range and style it like a flack jacket with lots of pockets, but mine would have a hood and a more relaxed feel because of the elasticated wrists and back.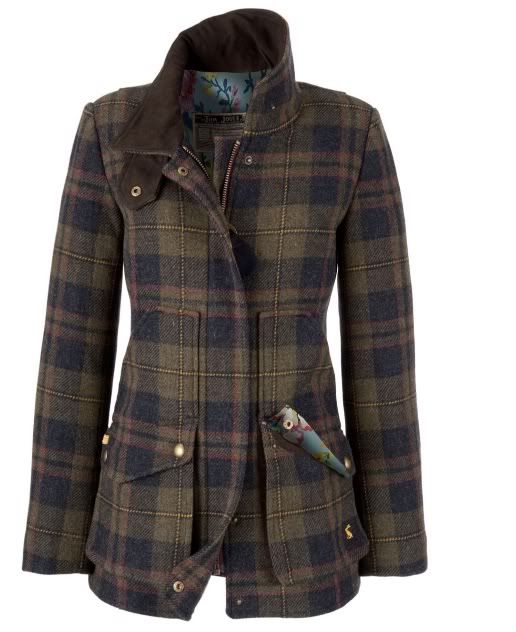 That wool plaid is amazing! From Joules
Oh, well, thinking about it now, I can probably justify buying the pattern, just in case?